Resume | Experience | Links | Contact | My Pictures | My Camera | My Music | My Programs
Experience
Applications | Multimedia | Web Pages
---
Audio

Here's a mix I put together for my pleasure and yours.


Real Out There Hip Hop Mix - Download MP3 or Steam MP3 (High Bandwidth only)
My latest production and my first attempt at serious beat matching. This mix was hand crafted for any real hip hoppers out there. It's 71 minutes - 81MB featuring artists such as The Dust Brothers, Blackalicious, A Tribe Called Quest, The Roots, Mazzy Star, Wu Tang Clan, Mos Def, Cypress Hill, Dr. Dre and many more.
---
Visual
For some samples of pictures I've created click on My Pictures above.


Chopskrewey Video Promo
Here's a little project I spent way too many hours on, but oh well I learned a lot about how to use the software I had. It's sort of a music video mix, picture a DJ mix tape with visuals.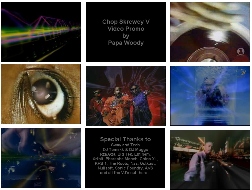 Stream with Windows Media
Download
Windows Media

Click here if you would like to know more about how this video came to be.

© 2023 Greg Woody